Psychoeducation Friday's with Dr. Kam
Who is Dr. Kam?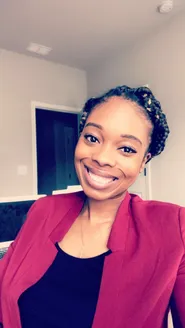 Kamille Williams, MD, is a Metro Atlanta native who was primarily raised in the southeastern suburbs of the city. She received her Bachelor of Science in Chemistry at Spelman College before pursuing her medical degree at Meharry Medical College in Nashville, TN. During this time, Dr. Williams was heavily involved in community engagement and service throughout the city of Atlanta and Nashville.
Dr. Williams is currently a 1st Year Child and Adolescent Psychiatry Fellow of the Department of Psychiatry and Behavioral Sciences at Morehouse School of Medicine. She is also one of the current Co-Chairs for the APA/APAF Child and Adolescent Psychiatry Fellow. Dr. Williams continues to serve her community during her spare time and participates in several community outreach activities with the institution such as Hosea Williams Feed the Homeless as well as non- institution activities such as volunteering with the Atlanta Community Food Bank. In addition to her community service involvement, Dr. Williams is one of the youngest Board Members and current Vice Chair for Kid's Doc on Wheels, a non-profit mobile primary health care organization for children and adolescents that focuses on increasing access to primary care. She also is the chair of the Resident Physician Wellness Committee within her department and has spear headed several initiatives centering around resident wellness such as monthly outings and sessions dealing with physician burnout and mental health.
Dr. Williams is a part of several local and national organizations including the American Psychiatric Association, American Academy of Child and Adolescent Psychiatry, American Medical Women's Association, Georgia Psychiatric Physicians Association, and Georgia Council on Child and Adolescent Psychiatry. Her other professional interests include global mental health, collaborative care with other specialties, mental health advocacy, and complementary and alternative medicine.
In her spare time, Dr. Williams enjoy spending time with her family and friends, reading fiction, and participating in various activities such as festivals and concerts.
What is Psychoeducation Friday's?
This new program will happen every Friday, which will include handouts and interactive videos of Dr. Kam discussing various topics regarding Mental Health for youth.
This Weeks Post 06/25/2021:
Last Weeks Post 06/18/2021:
06/11/2021:
06/04/2021:

03/26/2021: